The Regular Season is over, but the Postseason is just kicking off!
Congratulations on advancing through this year's Medicare Advantage season! It's now time to shine in the Postseason where great teams take their game to the next level. Now that you've served your clients with their Medicare plans, you have an incredible opportunity to follow up on another major need and help them leave a lasting legacy.
This is why Legacy Safeguard created the Postseason Game Plan — a guide to successfully advancing through the Medicare season and into the Postseason to become a Senior Market Champion.
The Postseason Game Plan shows you how to provide the game changing Legacy Safeguard service and thank your clients for working with you on their Medicare planning needs.
Whatever you do, don't over extend your "bye week" and let too much time go by once the Regular Season is over. Take advantage of your hot streak, and get started with the Postseason Game Plan so you can help more clients than you ever thought possible by using our valuable system.
There is not another marketing plan as easy to implement in the Senior Market as the Postseason Game Plan, and by offering Legacy Safeguard, you will be able to make more presentations and close more sales.
Serve your clients with another major need after Medicare Season
With regulations and guidelines continuing to increase, now more than ever we all can see the need to diversify business and create a new revenue source. Did you know that the Medicare clients you meet with everyday are the exact same people who need coverage for final expenses? Helping serve their needs just makes sense. It's a perfect transition and so simple to do when you use our marketing system.
Also, it's proven that your previous clients want to buy more from you! The Life Insurance Market Research Association (LIMRA) found that 78% of life insurance shoppers with previous relationships with their agent bought life insurance when their agent presented it to them*. According to this research, there is a huge need for agents to present life insurance products to seniors. And, since you're the trusted advisor to your clients, they are also more likely to buy life insurance from you. All you need to do is present it to them!
What is the Next Step?
Now is the time to get started with the Postseason Game Plan! Simply contact your Marketing Partner, the agency that you work with for final expense and Legacy Safeguard, to request your Postseason Game Plan book along with the Legacy Safeguard Client Letter and Client Appointment Script! You will find that this is one of the easiest sales presentations in the Senior Market that you will ever make, and we've outlined everything for you step-by-step. It's really that simple, and we have it scripted out for you!
Get your copy of the Postseason Game Plan today and we look forward to seeing you become a true Senior Market Champion!
To request your copy, simply fill out the form below. You'll also receive the SMS e-newsletter to keep you on top of the latest products, sales approaches, webinars, white papers and timely offers exclusive to SMS agents.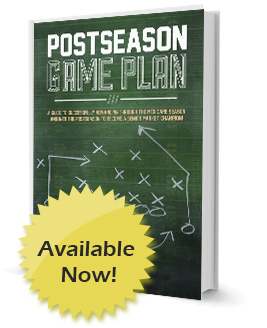 Brought To You By: