March 1, 2017
Reminder: Annual SEP Training and Affirmation Requirements
Producers selling any policies as a result of the Special Enrollment Period (SEP) must complete Blue Cross and Blue Shield of Texas (BCBSTX)-sponsored annual SEP training and affirm their completion to receive compensation for such sales. You must complete the training and affirmation by April 30, 2017, in order to be compensated for policies with effective dates on or after April 1, 2017.
The BCBSTX compensation schedule has been revised to reflect the SEP training and affirmation requirements. You can access the revised schedule on the Blue Access for ProducersSM (BAPSM) home page after logging in. We evaluate our commission structure on an ongoing basis and we reserve the right to make adjustments to compensation in accordance with the term of your contract.
Mandatory SEP Training Now Available
Because our producers are so integral to the enrollment process, it's critical that you're fully informed on the SEP application process. The BCBSTX-sponsored annual SEP training for producers includes a detailed list of accepted documents for each SEP qualifying life event and the steps applicants can take to submit the required documentation, along with details on how and when we will contact you and your clients.
Training Affirmation Required
Writing producers and subproducers are required to affirm completion of the SEP training by April 30, 2017, in order to be compensated for under 65 policies that have an effective date beginning April 1, 2017. Attempting to affirm with an AGENCY ID will result in an error.
To affirm that you have completed the required training:
Log in to BAP. If you are a subproducer, be sure to log in using your own 9-digit BCBSTX-issued producer number and password. Note: The affirmation must be made at the writing producer/subproducer level, not the agency level.

Go to the Producer Services section and select the "SEP Training Affirmation" link.

Read the affirmation language and click "Submit."
For optimal results, please use the Google Chrome web browser to submit your affirmation. If you experience an error, try clearing your cache cookies. If you continue to experience issues, contact the BAP Help Desk at 888-706-0583.
Delegating Access to Subproducers
If you would like to delegate access to your subproducers, please log in to BAP. Once logged in:
Click on the Password Manager link.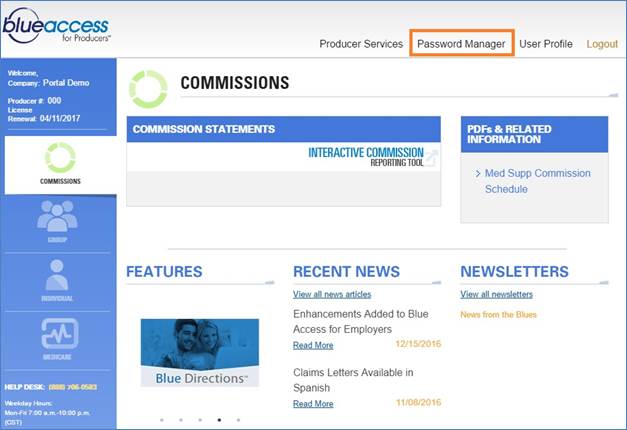 Click on New Delegate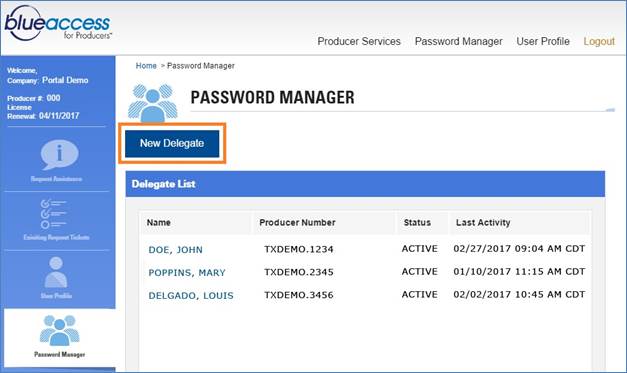 Add all required information (required information is identified with a red asterisk) and select which "roles" you'd like the subproducer to have. For example, if you do not want a subproducer to have access to commission statements, please ensure that box is not checked.

Once all is filled out, click Save.
Be prepared to help your clients get the health coverage they need through important life transitions. Complete the training and affirmation prior to the April 30 deadline.