Feb. 22, 2017
The Month of February Is Nationally Recognized as Children's Dental Health Month
Each year the American Dental Association (ADA) designates February as National Children's Dental Health Month to raise awareness about the importance of oral health. To kick off National Children's Dental Health Month, Blue Cross and Blue Shield of Texas (BCBSTX) mailed postcards to our members with children between the ages of 2 and 5 who are considered at risk for tooth decay.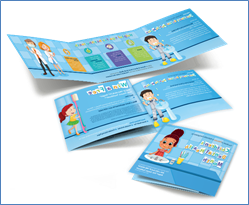 These fun and informative postcards help members teach their children about good brushing and flossing habits, reminding them that good oral habits established as children ensure healthy teeth as adults.
As an added bonus, the first 100 children to visit a dentist between February and September for a cleaning will automatically be entered to win an Oral-B PRO-HEALTH Stages Kids' Electric Toothbrush.
In an effort to keep members engaged and continue to educate children about healthy dental habits, we encourage our members to visit the Children's Dental Health webpage at the Dental Wellness Center. The webpage offers dental health information as well as tips and printable activities and coloring pages for children.
Also, check out our Children's Dental Health Month posts on BCBSTX's Facebook, Latino Facebook and Twitter pages.