How'd They Do That? Turning a Building into a Billboard
You may have seen it in person, maybe on TV during a nationally televised Bears game, or perhaps photos on Facebook or Twitter: the headquarters of Blue Cross and Blue Shield of Illinois lit up like a giant billboard in the night sky over Chicago's Millennium Park.
In 2012, the building at 300 E. Randolph Street displayed 25 messages — some in support of philanthropic or civic causes, some bringing awareness to diseases that touch our lives.
So many messages, but for many people they lead to one single question: How'd they do that? Let's go back to the beginning – 1997.
"When the building was originally designed, the architects had given our operations folks some ideas on how we might be able to use the exterior south facing building for billboard activities," explained Geoffrey Credi, senior manager, facilities operations.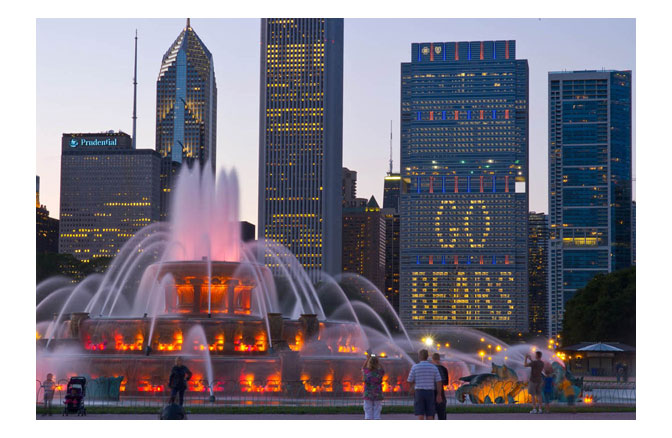 But it wasn't until 1999 that the building put up its first larger-than-life display: the number 34. It was a tribute to Walter Payton, the beloved Chicago Bears running back who had just passed away from liver cancer.
Use of the building lights has slowly escalated, from celebrating the city's sports milestones to marking the tragedy of 9/11. And now it is gaining national exposure thanks to social media and the use of hash tags on some of the messages tying them to Twitter campaigns.
"We have a unique opportunity to use the asset of this wonderful building to promote wellness initiatives," Credi said. Many people assume there is a lot of complicated technology involved in lighting the building. But "it really just boils down to manual labor and good creativity," Credi said.
Enter Michael Rallo.
He's like the Monet over Millennium Park, the Renoir of Randolph Street. Rallo's title is foreman electrician for Terrence Electric, the building's electrical contractor. But that doesn't give credit to his role as artist-in-residence who draws up the designs that spread the BCBSIL messages to the community.
He said he gets questions all the time, " 'How did you do it? Is there a computer program?' No, we just draw it up, you know and let it rip after that!"
Once BCBSIL has decided to post a message on the building, Rallo takes a trusty Sharpie marker and draws out the letters or image on a blueprint of the building's exterior. "There are 50 windows [in each row] across the south façade of the building. We use all 50 windows on however many floors we need," he explained.
The windows aren't numbered, so the image is flipped over (to give the same view someone inside the building would have), and a team counts as they go along opening and closing the blinds as needed. "I will number them as I go, close 3, open 4, close 5, open 6," Rallo said.
It can take four or five people three hours to complete the task. James Aiello is a journeyman electrician at 300 E. Randolph. "Typically it is anywhere from 10 to 15 minutes a floor, and usually Mike will give everybody anywhere from 10-12 floors."
Then Rallo overrides the lighting system to keep the interior lights on overnight for the floors used in the design.
Sometimes, employees who are working late may open or close a shade, upsetting the design, so a second shift electrician goes outside to view the façade and make sure the message is correct.
Credi said, "Using the billboarding on the building allows us another opportunity to really get a message out there to our customers, the city of Chicago and anybody that may be visiting this wonderful city."