You don't need a lot of money to start investing in penny shares

But they could make you a fortune in less than a year

My name is Francois Joubert — and I'm going to show you exactly how you could become South Africa's next penny stock millionaire…

By picking up the undiscovered, unloved and under-priced small cap shares that look destined to become the big boys of the future.

Nothing beats the thrill of buying up a cheap small cap no one else has heard about… then watching it go up in value as the story unfolds just as you hoped.

Of course penny shares are riskier than 'big name' stocks... but with bigger risks come much bigger rewards... and in my opinion hand-picked penny shares are your best shot at bagging triple-digit gains on the stock market.

I'm not ashamed to say it… I love penny shares.

I love getting in on a breakout success story before everyone else.

But most of all I love banking big stock market gains – especially if it's on the blindside of other investors.

After being introduced to the financial markets as a student, I found myself exhilarated by the otherwise dull world of financial statements and ratios. Since then, I have adapted Benjamin Graham's principles of value investing to develop my own successful investment strategy which makes consistent, market-beating returns.

I started out with only R5,000 and grew my portfolio over eightfold in only 3 years. Over this time I have achieved returns on medium term investments (between 3-12 months) of 55% Octodec, 145% Old Mutual, 65% Ellies, 59% Wescoal, 55% from Country Bird Holdings and over 200% on Pan African Resources.

How do I do this?

Simple. For explosive, unreported success stories you have to look to the small cap market…

Because when it comes to the big blue chips, price surges are few and far between. Pension funds and investment banks have already pumped huge sums of cash into them, leaving very little room for large growth…

Sure, the share price might creep up 5%-10% over time and that's a good return…

But you're rarely going to double or triple your money in months by investing in Blue Chip Shares, are you?

Penny shares on the other hand make 100%-plus gains like these possible - if you know how to pick the right company at the right time.

The small cap market, when you look hard enough, has a number of these underpriced shares, undiscovered gems, and tiny firms that could go up - very far up - in value.
Now of course I need to remind you that investing in shares is risky - you could lose your capital - and that investing in penny shares is particularly risky. That's why you HAVE to know what you're doing to really make big money in this potentially explosive investment class.

That's where I come in. As South Africa's foremost penny share investment expert, I can help you turn your stock market investments into cold, hard cash… And I've put together a first-of-its-kind FREE programme to help you make big money from small cap stocks, using the exact same methods I used to grow my own portfolio eight-fold when I first started investing in shares.
You do NOT need a lot of money to get started. My teaching is 100% free - I am not asking ANYTHING in return. This programme is my way of giving back to the community after all the success I've experienced in my own investing over the years. Even better, thanks to new low-cost stock brokers you can start investing, profitably, in the JSE's hottest stocks with less than R100 - whatever you're comfortable with. And over the next 30 days, I'll show you how.

All you have to do is sign up for my free 30 Day Penny Share Millionaire Programme at the bottom of this page.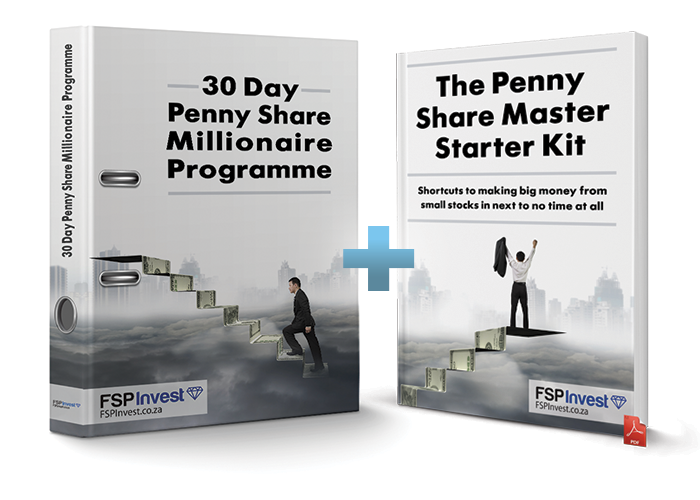 When you enrol you'll also get my FREE Penny Share Master Starter Kit to help you on your journey to become South Africa's next penny share millionaire!

In just two minutes a day over the next 30 days, you'll discover:

How R10,000 could pay for your retirement
And much more!

Enrol now and start the journey to your own penny share fortune today.
But please hurry. Due to the size and speed of penny stock moves, I have to limit the number of complimentary course participants to the first 1,000 South Africans to take advantage of this opportunity.
I don't want you to miss out on the life-changing profit potential of penny stocks.

Here's to unleashing REAL value!


Francois Joubert,
Chief Investment Strategist, FSPInvest.co.za
PS: Right now, I have my eye on five stocks with the potential to double your money in the next 12 months. The first 50 people who sign up to this free programme will also get full access to my FULL report on these shares set to rocket over the next few months.



Contact | Privacy Policy | Our Services | About Us | Disclaimer
Disclaimer: Copyright © 2016, Fleet Street Publications (Pty) Ltd. All rights reserved.
The information contained herein is obtained from sources believed to be reliable, but its accuracy cannot be guaranteed. No action or inaction should be taken based solely on the contents of this publication. We do research all our recommendations and articles thoroughly, but we disclaim all liability for any inaccuracies or omissions found in this publication. No part of this publication may be reproduced or transmitted in any form or by means of electronic or mechanical, including recording , photocopying, or via a computerised or electric storage or retrieval system without permission granted in writing from the publishers.