Home Health
oasis app
Quickly find the OASIS insight you need to accurately complete the assessment the first time, every time with the reference app no home health field clinician should be without. Explore with a free 14-Day trial now!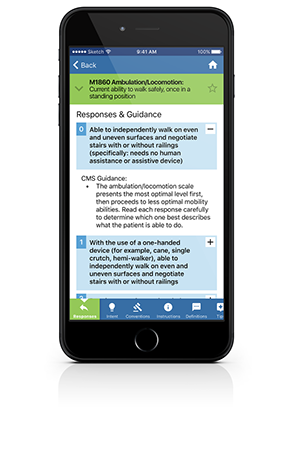 The Premier OASIS reference tool!
HH OASIS Mobile allows you to access both official and exclusive expert OASIS guidance anywhere, anytime! Quickly navigate to decision support for any M-item with a few simple touches/swipes, including OASIS Guidance Manual instruction and DecisionHealth's plain-English summaries of every CMS Q&A. No more flipping through hundreds of pages of official guidance to find an answer.
Features
---
HH OASIS Mobile is a must have for home health field clinicians
Remote Access
Available anywhere, anytime – even in areas with limited or no WiFi!
Exclusive Guidance
Plain-English tips and CMS Q&A summaries from respected experts
Time Saver
Official and expert instruction in the palm of your hand
Testimonials
---
What your colleagues are saying about HH OASIS Mobile
"I have been enjoying the OASIS Mobile App and have found it to be easy to use and very helpful in working through the questions. As the clinical nurse supervisor it is nice to have access to the info on my phone so that I can help the staff with questions they have when doing the OASIS."

- Brenda Monson, Prairie Lakes Home Care/Hospice, Watertown, SD … iOS user
Take a look for yourself
---
Watch below
Start a 14-Day free trial!
---
Simply fill out the form below